Content
The management of digital media with a digital asset management (DAM)
What is digital asset management?
What functions does a DAM have?
Find and organize files
Brand management
What are the advantages of digital asset management?
In which areas is a DAM system used?
How do I choose the right system?
How can I get a DAM system?
The management of digital media with a digital asset management (DAM)
Here a picture, there a video and somewhere a folder with the presentations from last year. As chaotic as it sometimes gets on your own desktop, some company drives that are used as media storage are just as disorganized. But especially in the course of digitization and the increasing concentration on online content in marketing, access to digital files, also known as assets, is becoming more and more important. However, these are still often simply saved locally on individual computers and therefore have to be searched for or even bought several times. Digital asset management, or DAM for short, helps companies manage their assets and digital content, make them centrally accessible and make them available directly for processes such as marketing.
What is digital asset management?
DAM software can be any form of database in which digital assets, i.e. media files such as graphics, images, videos, music, texts or presentations, are stored and organized. This applies to a simple image database of a photographer up to a marketing management system for decentralized companies. These databases are intended to simplify the storage and management of assets and bring all of the digital content together in one central location. In general, this storage is located in the content management area and is sometimes also referred to as media asset management (MAM). This DAM software can be used purely internally in marketing, in the company or in cooperation with external suppliers and partners as well as press contacts.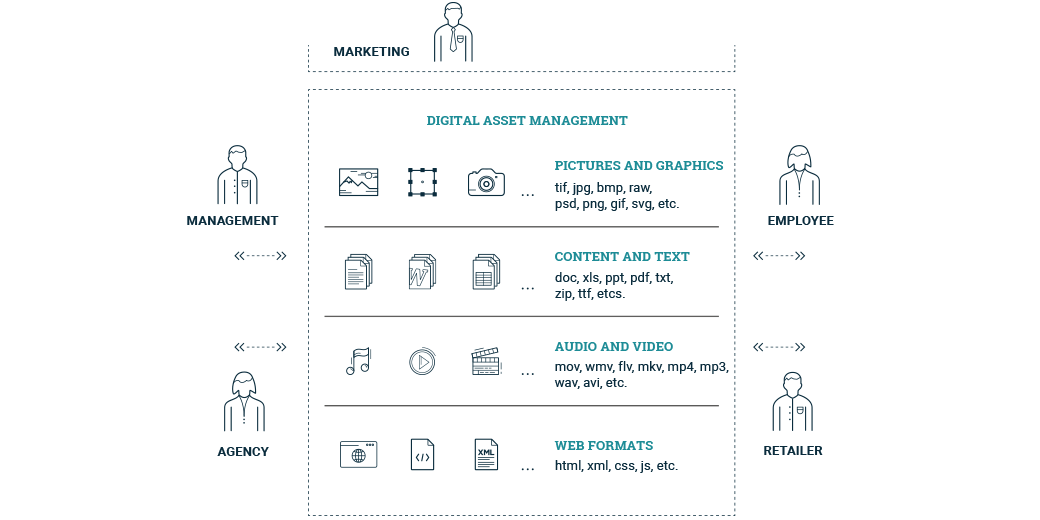 What functions does a DAM have?
Import and Export of Files
Working Anywhere and Anytime
Integration in Other Systems
Find and organize files
Digital asset management (DAM) can make many work steps easier and more productive in marketing and in companies. The most important point in digital asset management (DAM) is to create a platform on which all assets and content can be easily found. This is done by importing all images, videos, content and other media files here. From this collection it is now possible to download and export exactly the assets and content that are necessary for the planned work step elsewhere, for example in the creation of advertising material in marketing. In order to make it possible to find the right asset in the shortest possible time, additional metadata can be stored in the files, which support research and clarity. For example, the properties of an image can be searched for and filtered. Another advantage of this central storage is that all digital assets are archived at the same time, so nothing is lost and does not have to be purchased several times.
Brand management
In addition to being used as a database, a DAM system can also be used as a brand portal solution in order to ensure a uniform implementation of the corporate identity in marketing and to provide all those involved in the company with the necessary information. In addition, the automatic generation of watermarks and other identifying features can also guarantee uniformity. By storing them in a central location, the assets can in most cases be easily accessed regardless of time and location (e.g. by different teams), which is a great advantage, especially in the flexible working environment of the 21st century . In order to further simplify the work steps, a DAM system usually also offers the option of connecting it to other systems (via interfaces). For example, a web shop solution, web-to-print systems or marketing management systems can directly access the individual digital assets through integration, but these are still physically located in the DAM software.
What are the advantages of digital asset management?
Orderly filing of files (digital assets) and content
Easily search and find assets and content using metadata
Easy sharing of files within a company or between partners and teams
High brand consistency (corporate identity) in various projects
File sharing (digital assets)
Increased security (less lost content)
Time savings and more productivity
Saving of local storage space
Cloud-based systems can be accessed from anywhere
Distribution and copyrights management
In which areas is a DAM system used?
In order to use these advantages and functions and to see whether digital asset management software is also suitable for your own company, it is advisable to take a closer look at the areas of application. As such, a DAM solution can be used in all areas in which digital content is used. This is particularly useful in the digital and online areas as well as in marketing. Sectors that have been using such database systems for a long time are the music and film industries as well as photography. But it is not only important to manage the content correctly in the media sector; smaller start-ups and large corporations are already using DAM to simplify their processes and to provide employees and teams with a single point of contact for digital assets. Here it is primarily the marketing, sales and PR departments that use digital asset management to find the content they need for their own work. You use the images and content mostly for the layout of advertising materials or the creation of presentations. In press work and also in cooperation with agencies and partners, DAM software is particularly suitable for file exchange. All in all, it means that digital asset management is relevant for companies that work with images or digital content.
How do I choose the right system?
Get an overview: Talk to potential users about whether a system can support them in their daily work
Identify functions: prioritize and select the most important functions and advantages
Recognize savings: How much is the system worthwhile in terms of ROI?
Determine the payment method of the system: One-time purchase or software as a service?
Examine file management: How should it be organized using metadata (tags)?
Calculate the number of users and storage space: How many users and storage space are required in the DAM solution?
How can I get a DAM system?
Software Purchase
Such a license-based management system is installed on the individual computers or in the internal company network after purchase. In order to be able to mutually access the content, the employees and partners of the brand must be in the same network. The initial purchase of digital asset management should be seen as a one-time, larger investment. Often, additional annual maintenance fees (approx. 20% of the purchase price) have to be paid so that the latest software version is made available to you. Only then can it be ensured that bug fixes and security gaps are also eliminated by the provider.
Software-as-a-Service (SaaS)
SaaS systems are cloud hosting in which the system is not made available on the computers, but online via a web app. This has the advantage that employees can access the images, videos, presentations, content and content from any location. All you need is an existing internet connection. However, the purchase using a cloud system is associated with monthly rental costs. However, based on this subscription to the software, users are provided with innovations and updates.
Other topics that might interest you