Marketing portal for franchise companies
Anyone who wants to lead their company to the top for a long time in an increasingly competitive market knows about the advantages that a franchise company brings with it. Customers know what they can expect from a certain product or supplier, uniform quality standards and the spread of their own brand are the key factors. This enables franchise companies to operate in a strong growth market, where it is important to exploit the market potential and help their own brand to achieve the best possible reputation. However, one should not forget that the uniform standard that customers expect from franchise companies must be met by both the company and the franchisees. Especially in marketing campaigns it is essential that the partners are supported in advertising measures and that potential customers are reached target group specific. But not every franchisee is a marketing professional - in this case a marketing portal can help. The system ensures that convincing marketing measures can be adapted locally and optimally played out.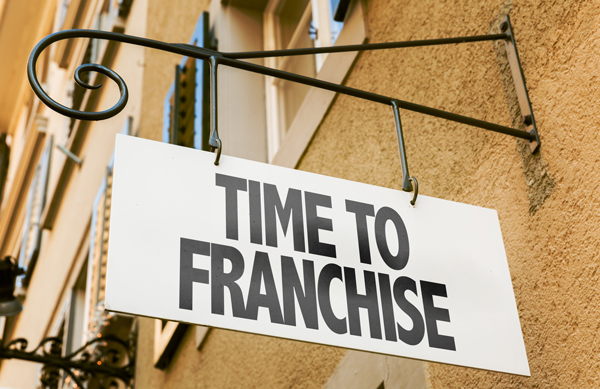 Workflow with a marketing portal
Control of all marketing measures via a central system
Connection of franchisees and sales partners
Marketing department (or specialist department) maintains marketing measures in the portal
Automated creation and booking of marketing measures
Possibility to connect service providers (e.g. printers, agencies) available
Would you like your partners to be able to fully exploit your company's marketing potential, at the same time position your brand more strongly locally or simply save time and money?
Then contact us today - we look forward to hearing from you.
Advantages for franchise companies
From the point of view of the marketing department
Central control and maintenance of all advertising media and measures
Secure adherence to the corporate design-compliant brand identity
Transparency in the activities of sales partners through reporting
Significant cost savings due to short distances and relief for the central department
From the franchisee's point of view
Control of all measures via a central system
flexible adaptation of advertising material templates (web-to-print)
professionally personalized advertising without previous knowledge
managed booking or order directly via the system
Insight into the franchise industry solution
Focus on franchise systems
Franchise systems are excellent brand multipliers that profit from the tried and tested distribution forms and the strong brand of a company. But especially when advertising campaigns are simply adopted by franchise companies and at most aligned with local data, it is important to apply a uniform principle that brings benefits for all concerned.


Support franchisees
If a company already has marketing strategies, sales channels and a strong online presence, it is worth supporting franchisees with the existing knowledge. The access of all parties to a marketing portal makes it possible for franchisees to work with tried and tested campaigns and communication models. In addition, advertising measures can be aligned to the last with local address data or site-specific images and ordered with just a few clicks.
Strong brand management and convincing campaign management
Only if a company builds up a strong brand management can customers be convinced and retained in the long term. Therefore, a secure brand management is the be-all and end-all to keep the value of the franchise company high in the long run. Companies secure their position in the market with convincing campaigns that can be supported across channels, adapted to specific locations and evaluated in detail with the help of a marketing portal.
Reach your goal
Convincing security standards, which are enforced in a marketing portal, ensure that data can only be viewed by authorized users within the company. All others are denied access to information. When hosting a marketing portal, care should be taken to ensure that the computer centre meets the data protection requirements of the DSG-VO (ISO 27001).

Frequently used advertising measures and functions