What is a brand portal?
A brand portal is a central online platform on which all relevant brand information can be found. In this way, different users - employees from different departments, agencies, servvice providers, branches - can simultaneouslyaccess the brand-relevant information and continue working with it. By centralising and bundling the information, coordination processes are streamlined or become obsolete. In addition, a large part of the communication between the various users takes place via the brand portal. In this way, the brand portal becomes a pivotal point for the management of your brand.
A brand portal, also called a brand management portal, can be individually tailored to the needs of your company and paves the way for a convincing, strong brand presence.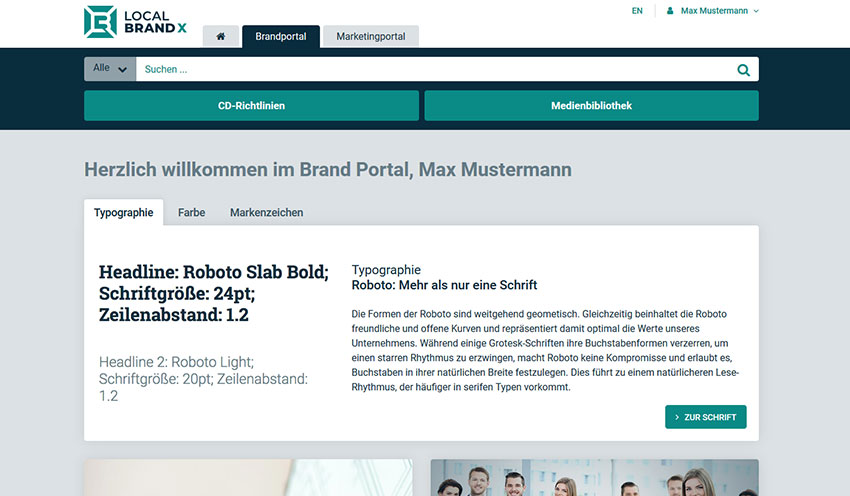 Why is a brand portal important for your company?
Every company benefits differently from a brand portal, depending on its specific needs. Nevertheless, there are certain advantages that every brand portal brings with it and that improve the work processes in your company.
The brand portal makes it possible to optimize coordination processes both within the company and with external service providers and agencies. In a brand portal, all users find the relevant content easily accessible and in bundled form. In addition, the brand portal makes it possible to work together on documents at the same time. The reuse of patterns ensures greater efficiency and cost savings.
The 5 biggest advantages with a brand portal
You see: A brand portal facilitates many processes in large companies and brings with it many advantages. Which are the largest for your company?
Provision of all information about your brand
25% time saving when searching for media
Reusability of individual corporate design components (patterns)
Improved coordination processes via the brand portal
Integration of your external service providers into internal coordination processes
Components of a brand portal
Corporate design manual
Probably the most relevant component of a brand portal is the function of a corporate design manual. All relevant design information can be found here. A style guide provides information on fonts, colours and logos. In addition, users gain insights into the brand philosophy of the company and can access patterns for Java, HTML or CSS. Central hub for defining your brand with the digital advantages of directly reusing individual elements of the CD manual.
Media Library/Download Center
Various files can be stored in the media library, which contains a brand portal: Images, text documents, but also image films, former campaigns or templates. The media can be downloaded directly from the brand portal, which can also be easily converted into various file formats via the brand portal.
Workspaces
In a brand portal, the different workspaces can jointly and simultaneously access the stored documents and continue working on them. But it is not only within the company that the brand portal becomes the interface of the different workspaces: the coordination of concepts with external agencies and service providers can also take place directly via the brand portal.
Which target groups does a brand portal serve?
A brand portal is popular in numerous industries and can lead to a simplification of coordination processes in various companies. Above all, companies with external branches and many external agencies or an international orientation benefit from the advantages of a brand portal.
Insurances
Banks
Franchise
Retail
Automobile
Travel
Clubs and associations
Gastronomy
Hotel industry
Healthcare
Optimizing coordination processes with a brand portal
A brand portal facilitates the coordination processes between the various interfaces of your company, as it serves as a central location for the provision of media and bundles all brand-relevant information in one place. This function of the brand management portal benefits not only the departments within the company, but also external agencies and service providers, as communication processes are streamlined. Arrangements are made directly via the brand portal and all parties involved can access the relevant information on a daily basis.
What is the difference between a brand portal and a marketing portal?
The terms brand portal and marketing portal are close together. Nevertheless, the different portals are characterised by different focal points, which characterise the work with them. A brand portal is predominantly an information platform for partners, branches or service providers who are not integrated into the daily work processes within the company. In addition, a brand portal optimises the coordination processes between the individual parties through collaborative working models. In contrast, a marketing portal primarily serves the provision of different marketing campaigns, which can be adapted by the partners through individualization options.
Current trends with a brand portal
Workspaces
Workspaces allow you to collaborate with other users on documents and optimize your coordination processes, e.g. with agencies.
Patterns
Individual design and web patterns are stored in the brand portal so that they can be reused by other users without great effort.
Interfaces
Single sign-on or the integration of existing media databases are becoming more and more popular.
What are the cost models for brand portal solutions?
Purchase
With a larger budget, it is worth investing in the purchase of a brand portal. In this way, the features of a brand portal can be tailored precisely to the needs of the company. In addition, many brand portal providers offer free training for employees and sales partners when they make a purchase, so that the brand portal can be used optimally.
Rent (SaaS)
For companies that have a smaller budget available or want to test the advantages of working with a brand portal first, brand portals are provided by some providers in the rental model. It is possible to use the brand portal for a monthly fee. However, with this cost model, training courses usually have to be borne by the company itself.
What does a brand portal solution look like?
Brand portal solutions can be individually designed to optimally meet the needs of your company. Contact Local Brand X's expert consultants and find out which Brand portal solution is right for your business.
Which user groups access a brand portal?
Marketing department
The employees of the marketing department obtain information about the brand portal concerning advertising and marketing, which is necessary for the creation of marketing campaigns.
Agencies/service providers
Agencies and service providers use the brand portal to use the information stored there for marketing campaigns. Furthermore, concepts can be coordinated with the marketing department via the portal so that the marketing campaigns are convincing.
Sales partners/branches/stores
A brand portal can greatly simplify access to internal media for sales partners, branch offices and branches. If required, media can be downloaded and directly converted into different file formats in the brand portal. These can be used to create PowerPoint presentations or press releases.
Press
Representatives of the press can access press releases as well as logos and image images of the company via a brand portal and easily use them for reporting on the company.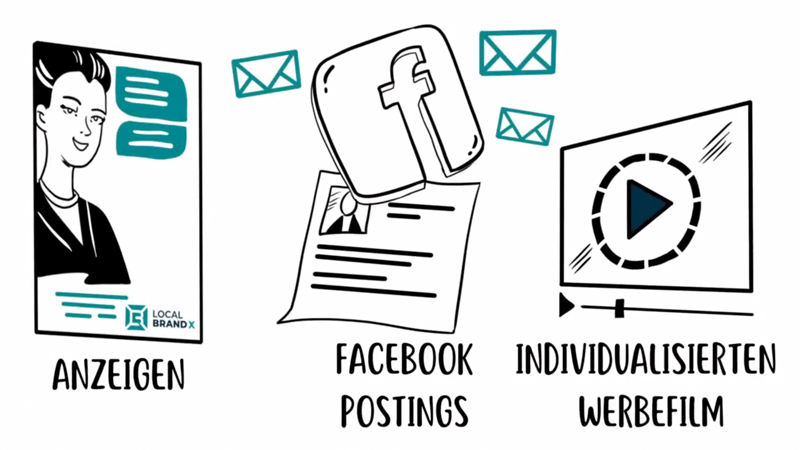 Was ist ein Marketingportal?
Lernen Sie in 90 Sekunden wie ein Marketingportal Ihr Partner-Netzwerk bei der Durchführung von lokalen Marketing-Kampagnen unterstützen kann.