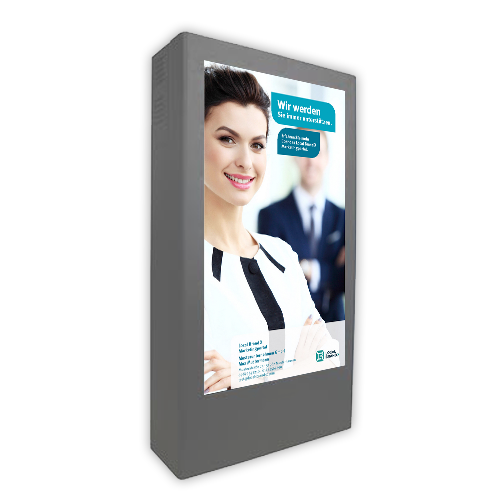 The digital reformation at the point of sale
Modern shops and shop windows no longer use only objects and posters to attract attention. Especially digital offers such as displays, screens and larger screens stand out from the competition and the usual experiences. Due to the technical possibilities not only picture and text can be displayed here, but also videos and sound elements as well as the interactive exchange with the customers is possible here.

Digital signage provides the opportunity to control all digital advertising space and distribute content with a connected content management system. Especially in decentralized companies, digital signage can be used by the marketing center as well as by local partners, in order to present uniform but nevertheless individually adapted content to the target group.

Use digital advertising space

Central control through content management system

Individual uses

Playout of campaigns in the locations
Advantages
Crossmedia advertising at the POS
Digital billboards enable the integration of a variety of media such as pictures, videos and even audio in the point of sale.
Attract attention
Due to the changing advertising, more attention and interest in passers-by and customers can be aroused, than through classic print advertising.
Central control of all devices
The content management system enables all monitors, screens and displays to be centrally recorded and accessed.
Cooperation of headquarters and locations
The individual media can be recorded by digital signage from both the head office and the partners.This results in a perfect marketing mix of national and local priorities.
How it works: Individual Content for Digital Signage
1. Select Media Form
Your partners select the media form (presentation, video, etc.) that will appear later on the monitors.
2. Individualize contents
The template can be supplemented with personal data and individual content.
3. Publish directly
With just a few clicks, the advertising can be finalized and published on the digital advertising space.
You also want to make your partners more successful? Then contact us today - we look forward to seeing you.
Want to see how your partners can create local video marketing in just a few clicks?
With the product "Video.X" you offer your partners flexible customization and personalization options for virtually all videos - from the commercial to the product video.