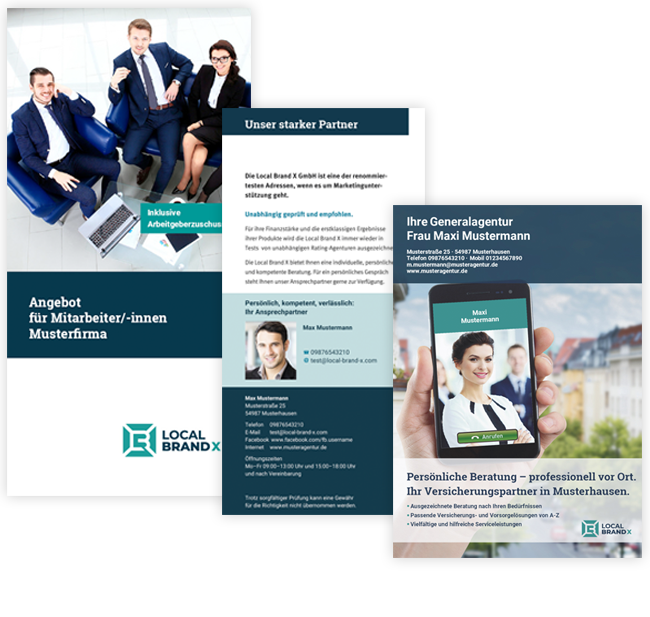 The information to the customer is
Due to the different elaborations of sales products they are suitable for all imaginable applications. Flyers and brochures can summarize the information from a personal sales pitch. These products can be given to the customer home as a stand-alone or reminder support. Through the combination of text, image and graphics, content is presented clearly and simply.
On the other hand, posters and advertisements serve as a magnet for attention. These can be used to point out a specific product or action at a glance. In general, the sales products can be used in almost any location. However, they are particularly helpful at the point of sale, at trade fair stands and customer appointments. In these situations, they support personal advice and provide additional sources of information for the customer.
Combination of text, image and graphics
Versatile uses
Summary of information
Many sales products for different requirements
Advantages
Flexible use
Sales products can be left alone as information carriers, but can also be worn in conjunction with presentations or conversations with the customer.
Depending on the situation
By simply creating such classic "web-to-print" media, sales products can also be printed and distributed for current events.
Visually striking
Integrating images or eye-catching graphics can draw extra attention to products and actions, leading to more customers.
Reminder factor
By using the sales products in different locations, they always come across the customer and thus remain particularly memorable.
How it works: Create individual sales products
1. Select product
No matter if your partner has chosen a flyer, brochures, posters or the classic print advertisement. In the system you will find the right product for every occasion.
2. Individualize the product
Your partners complete the template with your personal details and content in order to use them particularly well in local marketing.
3. Order products directly
By completing the artwork, your partners order the product directly to the store where it is ready for use.
Sie möchten Ihre Partner auch erfolgreicher machen?
Dann melden Sie sich noch heute bei uns – wir freuen uns auf Sie.
Would you like to see how your partners can create local print marketing with just a few clicks?
With the product "Print.X" you offer your partners flexible customization and personalization options for virtually all print media - from the simple business card to the comprehensive brochure.