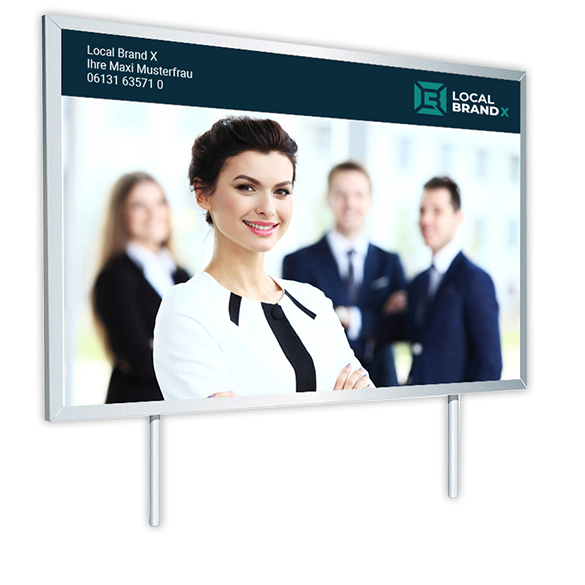 Carry the advertising message outside
Through the clever placement of outdoor advertising, the company and the advertising messages can accompany you through the normal city life.Be it on the advertising column in front of your own door or the billboard on the way to work.

The strong presence in a regionally limited area leads above all to a higher brand awareness and a wide spreading of the messages.Especially new, regional companies can achieve a high profile in this way.However, even for current campaigns and larger campaigns, various elements of out-of-home advertising are still beneficial, even in the digital world.

High presence in everyday life

High presence in everyday life

Achieve high brand awareness

Regional selection possible
Advantages
High attention
Especially in the city, where people are always in a hurry, a lot of time is spent in places like stops.Skillful advertising in these places attracts attention.
Broad target audience
The placement on the street makes advertising for a particularly large, heterogeneous group of people accessible.So no potential prospects are overlooked.
Regional targeting
Based on the selection of the location, specific target groups can be addressed at any time.Regional differences or specific quarters can thus be taken into account.
Versatile advertising options
Not only large billboards, but also advertising columns or city / megalights offer the right place for every campaign.
How it works: The right outdoor advertising
1. Select advertising campaign and locations
Your partner selects the desired ad campaign from a campaign. Subsequently, the advertising locations can be selected.
2. Individualize the advertising campaign
The CD-compliant advertising templates provided by the marketing center can then be customized and personalized directly by the partner.
3. Book advertising
After confirmation of the order, the advertising measure is automatically published by a service provider.
You also want to make your partners more successful? Then contact us today - we look forward to seeing you.
Would you like to see how your partners can create local out-of-home marketing with just a few clicks?
With the product "Outdoor.X" you can offer your partners flexible customization and personalization options for practically all OOH media - from the advertising pillar to the billboard poster.