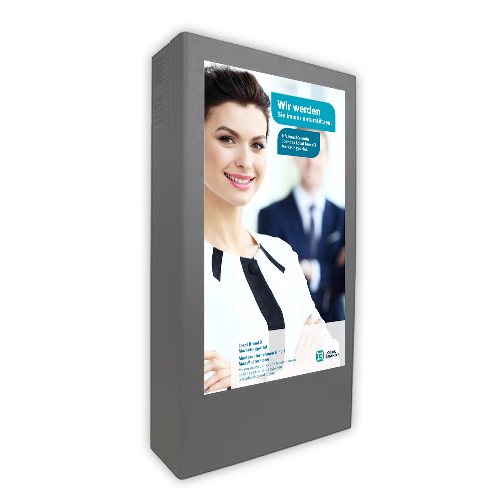 The chameleon of the advertising world
Digital outdoor advertising offers almost all the possibilities that are also available in online advertising.Through the use of displays not only images and texts can be used (as on classic posters, but also different media can be used.) The cross-medial mix of videos, pictures and texts can attract additional attention among passers-by.

Especially in waiting areas, at train stations or stops, digital outdoor advertising can be used successfully.Here, interested parties often have enough time to receive and process the information.By changing the digital displays can also be made to adjust the time or location.This makes the target group even more concrete.

Cross-media advertising opportunities

Provide information

Timely customizable

Extensive target group selection possible
Advantages
Use waiting times
The urban space offers some places where passers-by have to pass the waiting times.These are great for digital outdoor advertising.
Play on flexible
Videos, pictures, text or animations: The use of digital advertising space offers great flexibility especially for the media type.
Temporal targeting
Due to the digital feed, the displays can be used flexibly in terms of time.Thus, the target group can be limited and minimize scattering losses.
Large audience
Particularly in large cities, a skilful placement with an advertising circuit can reach a very large number of people.
This is how it works: Book Digital Outdoor Advertising
1. Select advertising campaign and locations
Your partner selects the desired ad campaign from a campaign. Subsequently, the advertising locations can be selected.
2. Individualize the advertising campaign
The CD-compliant advertising templates provided by the marketing center can then be customized and personalized directly by the partner.
3. Book advertising
After confirmation of the order, the advertising measure is automatically published by a service provider.
You also want to make your partners more successful? Then contact us today - we look forward to seeing you.
Would you like to see how your partners can create local out-of-home marketing with just a few clicks?
With the product "Outdoor.X" you can offer your partners flexible customization and personalization options for practically all OOH media - from the advertising pillar to the billboard poster.