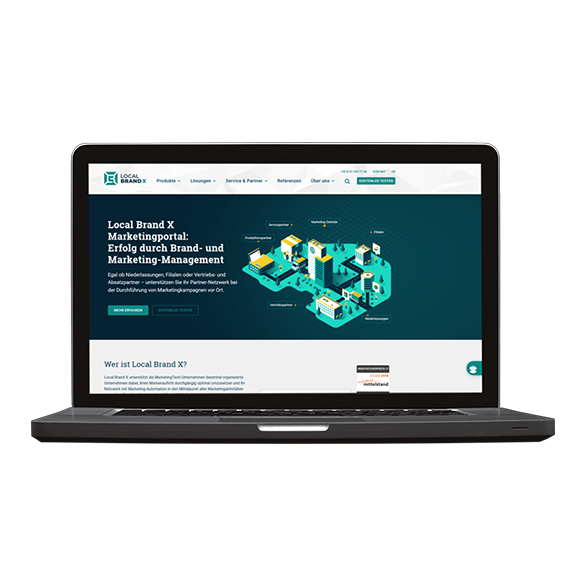 From the website directly to the shop
Also in the local area information about contact data, the offered service or the opening times are checked more and more on search engines like Google. In this search, it is most ideal for customers to get this information first-hand through the partner's website. Subpages may optionally display further information about the partner or the services - and always in their corporate design.

Via templates, so-called templates, web pages, microsites and search engine optimized landing pages can be created. The local partners can easily fill these with their own information and content and publish them directly. Afterwards the website goes online directly in the desired corporate design. These subpages guarantee a successful and personal first impression, no matter at which location.

Trusting information for customers

Websites, microsites or landing pages

Optimized according to the given corporate design

Search engine optimized page layout and technology
Advantages
Complete and verified information
Web pages bundle all the important information and can easily be reviewed and adapted directly, making them a secure source of information for customers.
Signboard of the partners
In the modern world, a successful online presence is sometimes even more important than the shop window.Are your partners talking to customers online, too?
Local search engine optimization
A good ranking on Google and Co. is successful advertising for every local partner.By Landingpages can be worked on relevant topics targeted at the search engine optimization.
Uniform, company-wide appearance
Despite local sales and distribution partners, it is important to see the company as a brand.Unified websites and brand image can strengthen the brand.
This is how it works: Create your own website/ microsite
1. Select template
Your partners choose the right product between websites, landing pages and microsites.
2. Integrate information
Subsequently, the given template can be filled with data, pictures and information.
3. Book and publish
By booking the product, the page goes directly online and can be used immediately.
You also want to make your partners more successful? Then contact us today - we look forward to seeing you.
Would you like to see how your partners can create local print marketing with just a few clicks?
With the product "Print.X" you offer your partners flexible customization and personalization options for virtually all print media - from the simple business card to the comprehensive brochure.