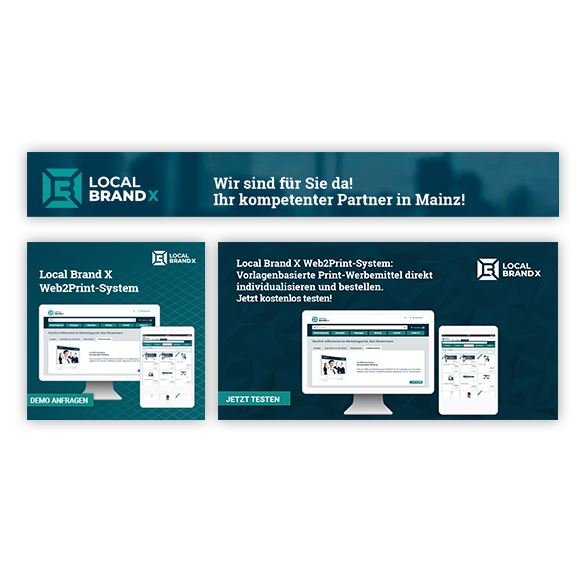 Targeted and successful online advertising
The placement of advertisements is a classic advertising element that has already promised great success in print products.Advertisements can also be placed on online and off-site websites to alert potential customers to the company and its products and services.Compared to the printed predecessor, however, these online banners have some advantages.

In the digital marketing world of the Internet, target groups are much easier to narrow down and determine than offline.This leads to significantly lower wastage and a more effective way to operate marketing.In addition, the direct link with your own website offers the opportunity to measure success and make it as easy as possible for customers to follow the call.
Attract attention

Less wastage

Measuring success

High selection of the target group
Advantages
Direct forwarding
When using online banners, you no longer have to rely on the customer remembering the ad later.The linking allows a direct forwarding to your own website or product.
Target group-specific design
The selection of the right websites and target groups can be ideally tailored to the target group of the ad through cookies and user profiles.
Simple success measurement
By directly linking and recording people who have been shown the banner ad, you can directly track the success of the banner.
Versatile
Banners offer an ideal opportunity to promote the company itself, various products or current promotions.They are therefore versatile.
This is how it works: attract attention with banners
1. Select banner
Your partner selects the desired banner and optionally chooses a desired format.
2. Personalize banners
Subsequently, the banner can be edited and supplemented with personal content.
3. Book and publish banners
By selecting the target group and advertising platforms, the banner is posted with just a few clicks.
You also want to make your partners more successful? Then contact us today - we look forward to seeing you.
Would you like to see how your partners can create local online marketing with just a few clicks?
With the product "Online.X" you offer your partners flexible customization and personalization options for virtually all online media - from the online banner to the Google Ads ad.