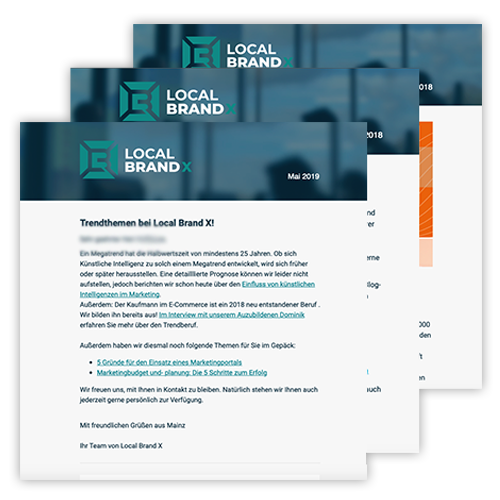 With the newsletter directly to the customer
Help your local partners reach their customers where they spend their time: on a computer, laptop or smartphone.With a newsletter you can make it directly into the everyday life of the customer and through the completely digital processing can save time, money and resources.Which means that the information can be carried out particularly quickly and effectively to the outside world.

Let the local contacts play!Potential customers and interested parties also volunteer to receive newsletters.Thus, the emails go directly and without wastage to the right recipients.Your partners can thus use the interest and provide interested parties with information about the local company, current promotions and products.

Especially inexpensive

Fast and direct communication with the customers

Low scattering losses

High attention
Advantages
Personalized address
Your partners enter into direct communication with the customers.With a personal approach closeness is built immediately and the customer feels directly addressed.
No wastage
Selecting the recipients of the newsletter individually - Thus, each partner can select the people who are important for his region.
Cost-effective distribution to a large audience
Provide information to a large number of customers - The newsletter spreads news quickly and cost-effectively.
Measurable success
Does that really matter?When using newsletters, you can use the system to track how successful the campaigns were at the various locations.
This is how it works: Create newsletter for your customers
1. Select newsletter
Your partner selects the desired newsletter.
2. Personalize the newsletter
Subsequently, the newsletter can be edited and supplemented with personal content.
3. Send newsletter
By selecting the recipient list, the newsletter can be sent with just a few clicks.
You also want to make your partners more successful? Then contact us today - we look forward to seeing you.
Would you like to see how your partners can create local online marketing with just a few clicks?
With the product "Online.X" you offer your partners flexible customization and personalization options for virtually all online media - from the online banner to the Google Ads ad.