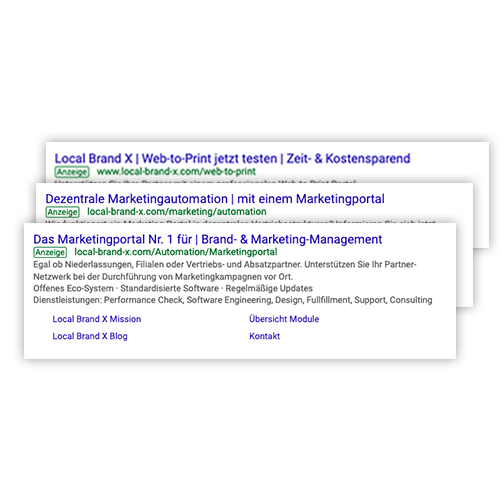 Score with the individual target group
To be at the top of Google search, you can not only successfully search engine optimization operate, even paid search results, so-called Google Ads, can help in a more incisive position. In most cases, people interested in your company's topic or products will first search Google for more information. These are the search queries that you can take advantage of and advertise specific keywords (the search terms).

In addition, the Google Ads budget can be used in a very flexible way because it only pays for ads that were actually clicked. On a smaller scale, it is therefore a successful method to attract more attention online for local providers and to address local customers directly.

Low scattering losses

Full cost control

Maximum attention

Accurate targeting
Advantages
Ideal target group address
By adapting to the relevant keywords, the target group can be specified very precisely.Thus, there are hardly any wastage.
Concise position
The position in Google Search says a lot about how many people actually click on a website.Positioning in the first ranks gives you extra traffic.
Cost control
They only pay what they get. By regulating that ads are paid for clicks only, the form of advertising is particularly cost effective and promising.
Little prior knowledge needed
Even without a great deal of SEO knowledge, using Google Ads makes it possible to achieve a particularly concise position in the search queries.
That's how it works: Advertising on Google
1. Select ad package
Your partners choose a Google Ads package that has already been delivered through the Marketing Center with keywords and audience criteria.
2. Edit ads
The ad text that customers see in the search query can be customized by the partner.
3. Book and publish advertisements
By posting the Google Ads ad, it will be published directly. An evaluation enables the partner to control the success at any time.
You also want to make your partners more successful? Then contact us today - we look forward to seeing you.
Would you like to see how your partners can create local online marketing with just a few clicks?
With the product "Online.X" you offer your partners flexible customization and personalization options for virtually all online media - from the online banner to the Google Ads ad.