What is Digital Asset Management?
Different campaigns, products, services or locations not only offer versatile advertising options, but also a large number of digital assets. Images, video, texts or other digital content are often stored locally on individual computers and can only be used by other employees after asking several questions. This results in different versions of data, double productions or loops of demand that take up a lot of time and therefore money. Digital asset management (in short: DAM) counteracts these problems by creating a platform on which all relevant assets can be accessed regardless of time and location. The DAM connects all the data that is important for the company on a cloud platform, which can be partially or fully released to employees. This leads to a very clear and uniform storage, in which the assets searched for can be found and downloaded in no time. With the access of the individual employees and partners, new assets can be added at any time, which favors digital and daily storage of the assets. A DAM thus offers you a web-based platform on which all your data can be organized and found.
Definition digital asset management system
"With a digital asset management system (DAM) you can centrally structure, save and share your images, documents etc. Your users can access the digital asset management system at any time and from any location via a web interface and always receive the latest documents. The system enables an efficient search for individual media and optimizes the processes in your company."
The services
Easily find digital assets (images, graphics, videos, etc.) using keywords and metadata
Maintaining corporate identity through stringent visual language and uniform logos and fonts
Current versions of assets through regular import and archiving of outdated assets
Time and cost savings due to the easy findability and the omission of double productions or inquiry loops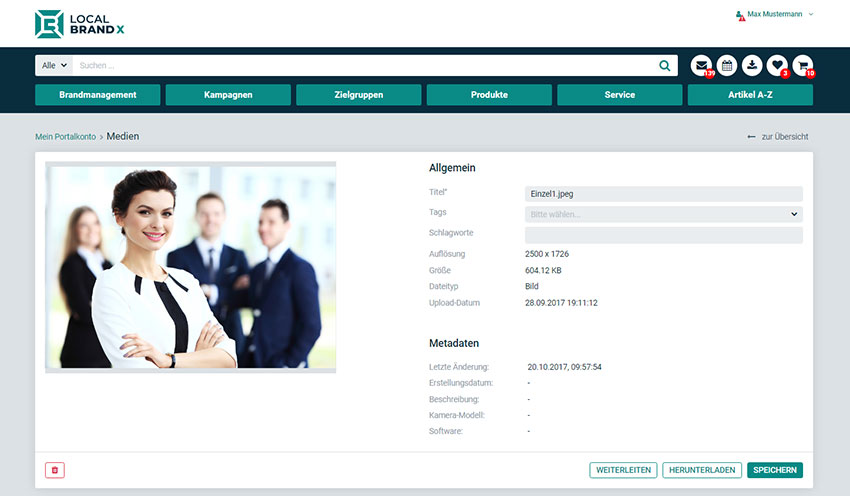 80%
less production time for standard media
50000 +
People use digital asset management
25+
individual interfaces from CRM to SAP
The benefits
Digital asset management as digital and uniform storage for your media
A DAM has functions for bringing together all of the individual digital assets that are required in your company. Especially in decentralized marketing, this makes everyday work much easier. Every user can access the management of the media files they need in the DAM system in order to use them ideally for content creation in their own marketing. The software thus facilitates marketing processes and generally leads to a uniform brand image.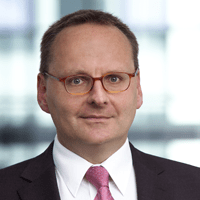 The use of marketing resource management improves our relevant processes for efficient advertising activities. The MMR system also ensures that our service providers are involved in a way that is true to the brand. The system offers a platform for successful and cooperative communication.
The workflows
Simplified workflow
The decentralized structure of many companies makes communication and exchange between those involved difficult in many cases. The individual employees and partners are often spread all over Germany or even the world and have to rely on digital exchange. Nevertheless, it is important that marketing contributes to a uniform brand image across locations and that the company is perceived as a unit. Digital asset management software offers a platform online through which digital media can be exchanged and organized, so that employees or partners can download these assets directly and use them for content in local marketing. A DAM system thus simplifies work processes in the company, since unnecessary file requests can be dispensed with.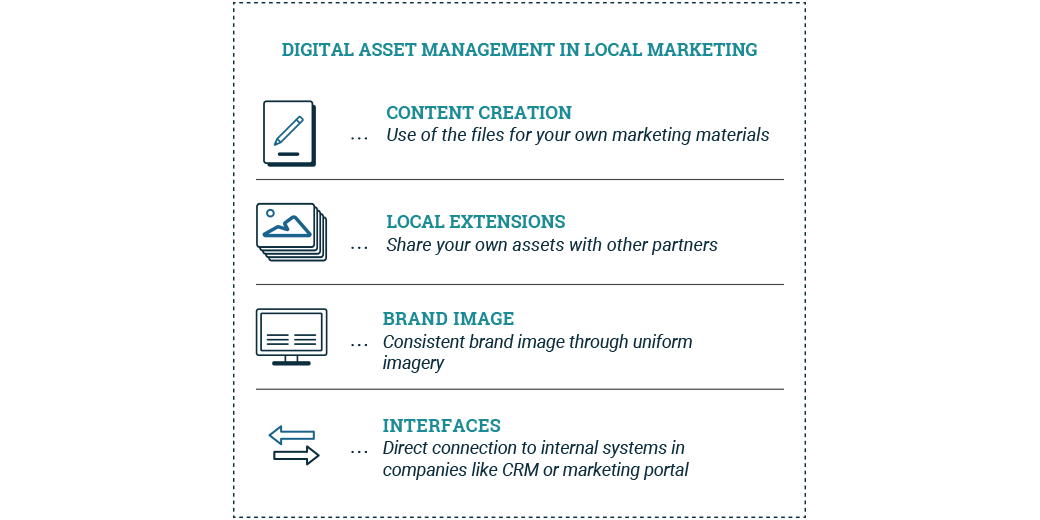 The complete solution for the uniform management of digital assets
Decentralized companies in particular live by convincing themselves with local marketing and advertising tailored to the individual target group. However, this local strategy also means that many different people have to access marketing materials and digital files such as images, videos, graphics or documents. In order to enable this exchange of partners, employees and external suppliers, a digital asset management system (DAM) offers functions to save all files digitally and online, in a cloud and to make them findable for everyone. In order to make these assets easy to find, metadata is collected for this purpose, which makes it possible, for example, to find an image based on the content displayed on it. The software can also be used to build a uniform brand image despite decentralized marketing. A DAM system offers the option of automatically assigning watermarks or identifying features such as logos to assets, thus ensuring uniformity. Thanks to the possible interfaces to web-to-print systems or marketing portals, the data can be used directly and digitally to create your own marketing materials without leaving the program.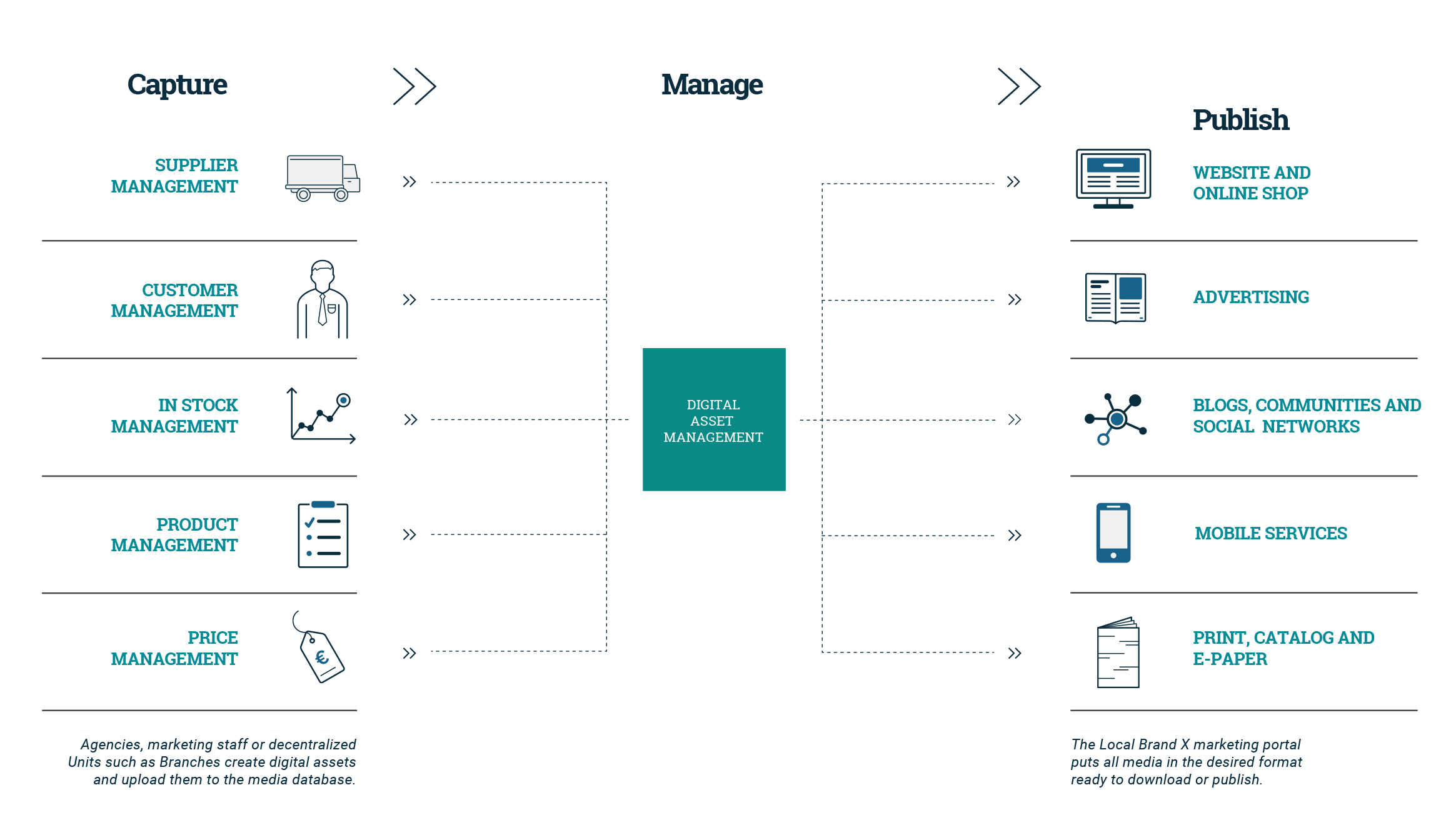 Management and findability
By using digital asset management (DAM), all graphics, images or data are stored in a central location and categorized based on metadata. This prevents the search and duplication of individual assets and leads to a faster and smoother workflow.
Various options in the marketing mix
Easy and quick creation of materials
Media import and export
Media can be uploaded in Digital Asset Management and downloaded again by others. This means that everyone involved can access the uniform platform and have the same content available for their use.
Fast provision of media for all users
Download the required digital assets regardless of time and location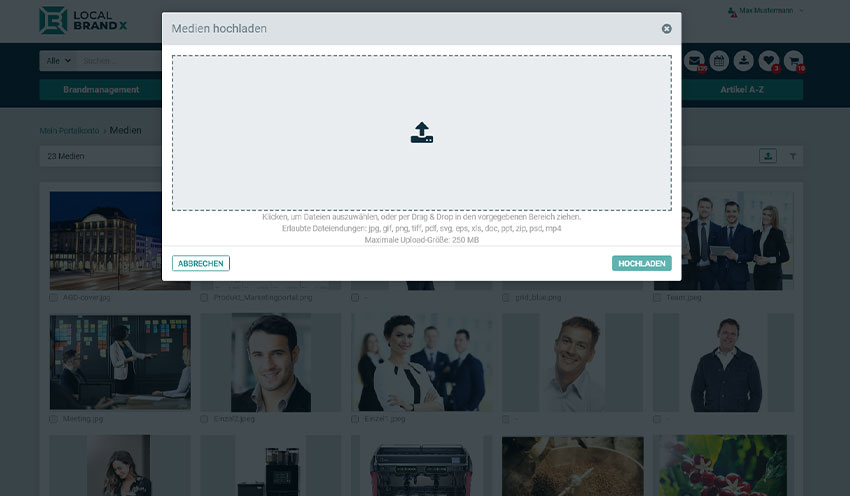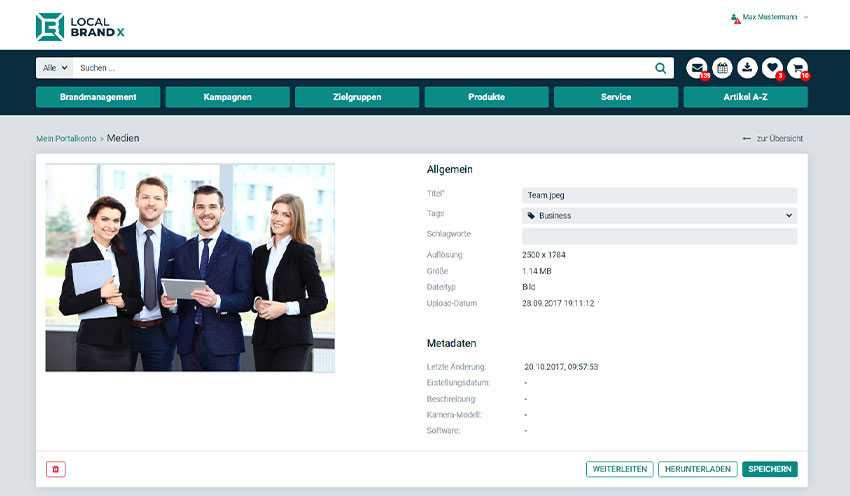 Archiving
By updating files to a more current version, important assets are lost in many places, which can become important again in the future. These obsolete versions can be archived uniformly in the DAM and thus be found again.
Find old files
Archive and current versions combined in one system
Uniform corporate design
Especially in decentralized marketing with many local partners, a uniform corporate identity is a big topic in marketing. Through the central storage of graphics, images and videos in digital asset management, all partners can contribute to a uniform brand presence.
Uniform imagery at the local level
Stringent brand image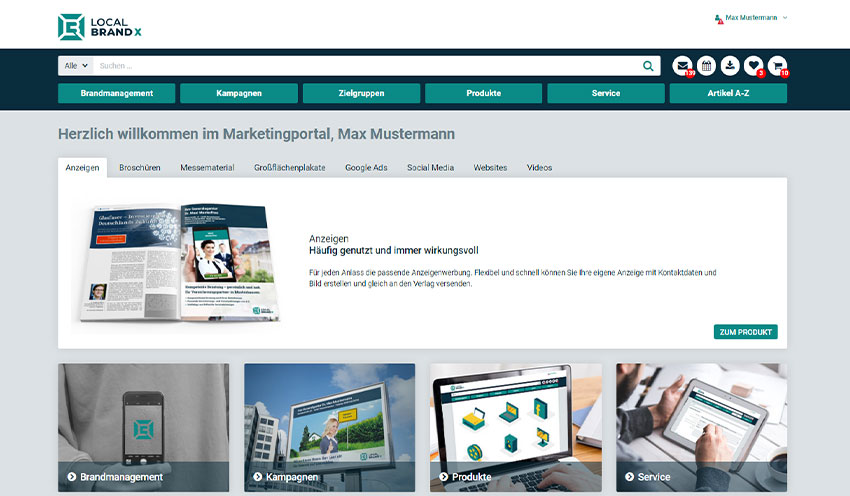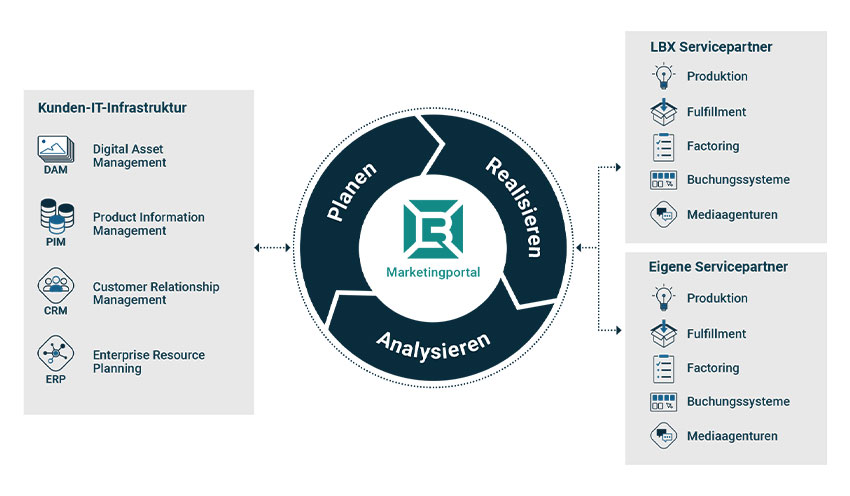 Open ecosystem
The DAM system can be connected to other software (CRM, marketing portals, shops, etc.) via interfaces (API). The files can thus be directly integrated into other work steps.
Open interface concept (API)
Simplified work steps through direct use of assets in third-party systems
Working anywhere and anytime
Thanks to the cloud-based storage and management of digital assets in DAM, every employee and partner can access the required content in the software regardless of their local location and the time of day, and use it for their marketing.
The same access rights regardless of location and position
Independent work by the partners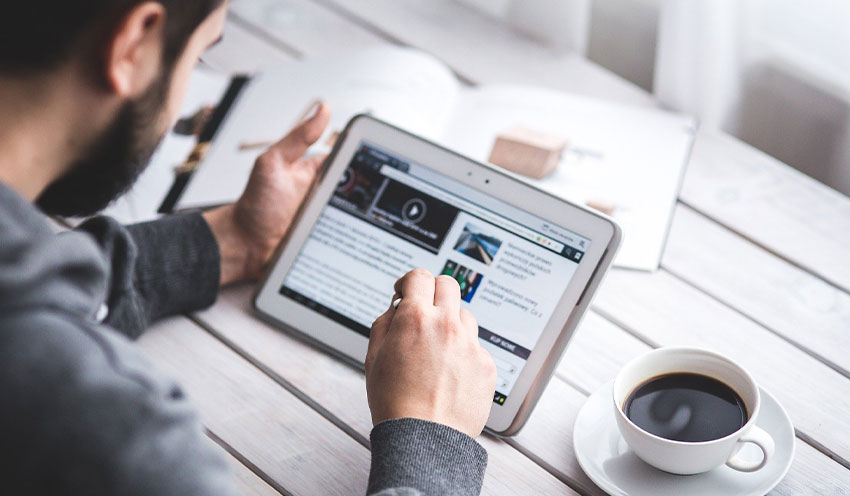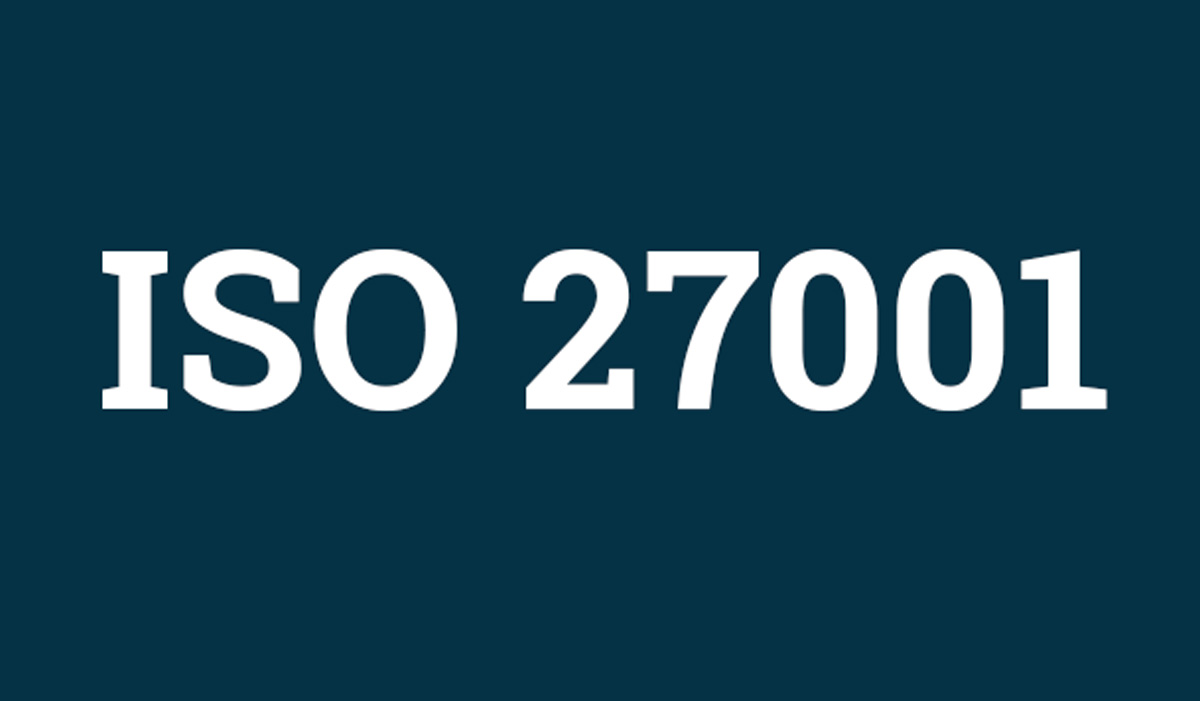 Multi-level security concept
With different access rights, you can decide which partners can access the individual assets. The files and content are backed up in digital asset management using a cloud-based software-as-a-service (SaaS) system.
ISO 27001 certified data center operation
Multi-level security and data protection concept