Web-to-print: The easiest way to personalized print products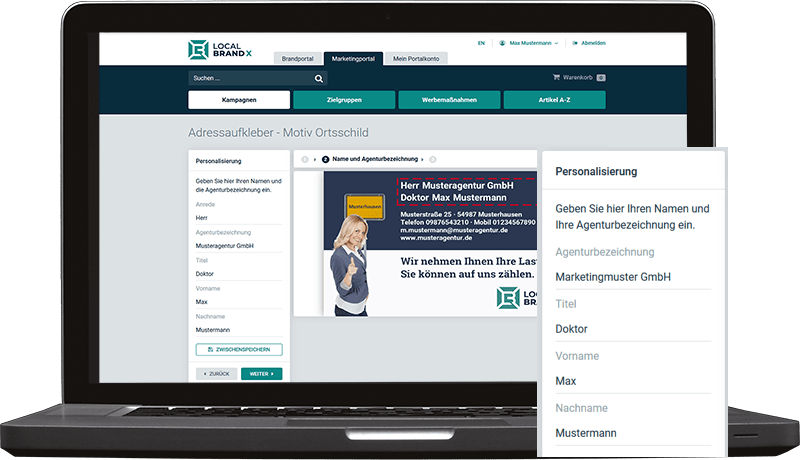 Digitally created products in an analog world
The web-to-print technology makes it possible to digitalise products digitally and to transfer the print data quickly and easily to the responsible printer using a web-to-print software. Standardization and automated processes ensure that everything goes smoothly and make it possible for non-professionals to produce personalized products - be it for one's own company or as a private individual. This makes it possible for anyone to create customized products from the comfort of their own home. A fixed selection of different templates facilitates the work on a web-to-print platform and enables appealing design without comprehensive graphics knowledge. The easy-to-understand interface eliminates the need for extensive training to integrate web-to-print into business. Especially in medium-sized companies, Web-to-print solutions make high-quality and professional print products possible without having to resort to their own graphics department.
But not only the simple user interface of web-to-print platforms makes this technology an attractive marketing tool. A web-to-print solution within companies streamlines processes and eliminates time-consuming work steps. With the right web-to-print provider solutions can be realized in which print data no longer needs to be checked. Formats and resolutions are controlled by the web-to-print system prior to transferring the print data to a print shop, making them less susceptible to error.
Ready-made templates ensure a consistent look, so that companies can present themselves from their best side. Logos, typography, but also colors and the structure of a printed product can be defined in advance and ensure a harmonious look. The corporate identity of a company is thus preserved.
Subsequent changes to products or advertising materials can be made quickly and easily at any time - even by employees who were not involved in the production of the pressure medium in advance. Failures in the company do not cause delays in the production process, new employees can quickly become familiar with the operation.
The number of products can be easily adapted through web-to-print solutions. Thus, printed products can always be reordered in small quantities. Changes to the logo or company data can be easily exchanged in the templates. Web 2 Print ensures that products can be reordered at any time via the Web-to-Print platform.
A technology with many applications
An individualized customer approach through business prints and giveaways in the corporate identity of a company can be easily and specifically implemented through a web-to-print solution. The application possibilities are as varied as the companies that use them. Letterheads and business cards, stickers, but also stationery or practical jute bags and umbrellas can be realized with the right web-to-print software. The areas of application cover both B2B and B2C and range from gift articles to price lists or catalogs.
Web 2 Print can not only be used within the company for its own marketing, but also enables external users to design their own products in public online print shops.
Strong Out of Home Advertising with the help of Web 2 Print
The production of advertising material for Out of Home Marketing can be a lengthy and demanding process - especially if you really want to invest little time and effort in the realization. Web 2 Print offers numerous possibilities to make it easier for companies of different sizes to create and distribute advertising material. For example, the design of a poster can always be easily updated and adapted. Some web-to-print systems also offer the option of booking advertising space directly via the system and delivering advertising material precisely to the right place. In this way, companies and their advertising messages become part of the cityscape in an uncomplicated manner and thus reach their customers.
Still up to date: Flyer as a handy advertising medium
If you are looking to local customers in the field of local marketing or want to present your company profile at trade shows, flyers are a great way to bundle the most important information and make it available to potential customers in a handy form. With the right web-to-print system, entrepreneurs will find the perfect design for their flyer and can easily fill it with their information. With changes of the business data or the presented offers these can be updated simply and centrally.
Simple advertisement processing and appealing customer magazines
Web 2 Print also offers many advantages in the publishing area: If the handling of advertising material in a magazine is via a Web-to-Print system, faulty print data are recognized directly by the system and can be adapted immediately. The ads themselves can be adapted to the target size with the help of the appropriate tool and make it easier to create the ad with pre-defined templates. Web-to-Publish also simplifies work processes in media houses and streamlines the communication processes between individual departments and the print shop.
If companies want to publish their own customer magazine, they have the right tool with Web-to-Print to approach customers with a high-quality product. Questions about layout and structure can easily be answered with the selection of the appropriate magazine template. With the right web-to-print system, every company can find a suitable design that can be easily adapted. Even an editorial office is not necessarily needed: The system offers pre-formulated articles that can be tailored to the company. The editing process is eliminated, so businesses can save a lot of time and money by choosing the right web-to-print provider.
Print on Demand makes author dreams come true
Particularly in the production of printed matter such as books, Web 2 Print has repeatedly proven itself as a print on demand tool. The benefits of digital printing make it possible to print books only when demand is there. In this way even small runs can be realized and repeat orders can be made to pieces. High storage costs and the risk of producing too many printed products are eliminated. Especially for authors without their own publishing house, Print on Demand is a great opportunity to realize the dream of owning a book without having to be proficient in the layout area.
Personalized gifts in the Online Print Shop
Another application of Web 2 Print is an online print shop in which users can independently design their products. Previous knowledge is not required. Private individuals can design textiles or household goods according to their own wishes. The simple, automated process guarantees high-quality end products and high customer satisfaction. Numerous gift tips on the Internet suggest that the desire for personalized gifts and souvenirs is great for many people. Online Print Shops combine the personal aspect of a homemade gift with the time-saving implementation through the Internet. If required, the gifts can be sent directly to the recipient via the shop.
In particular, the production of a photo book via an online print shop makes it possible to capture unique experiences not only on the smartphone, but to give away on high-quality paper and with a glossy cover. So lives the photo album on, but the time-consuming gluing and sorting of photos deleted. A gift that touched relatives but does not cost the giver much time and effort.
---