Web-to-print for local marketing with a marketing portal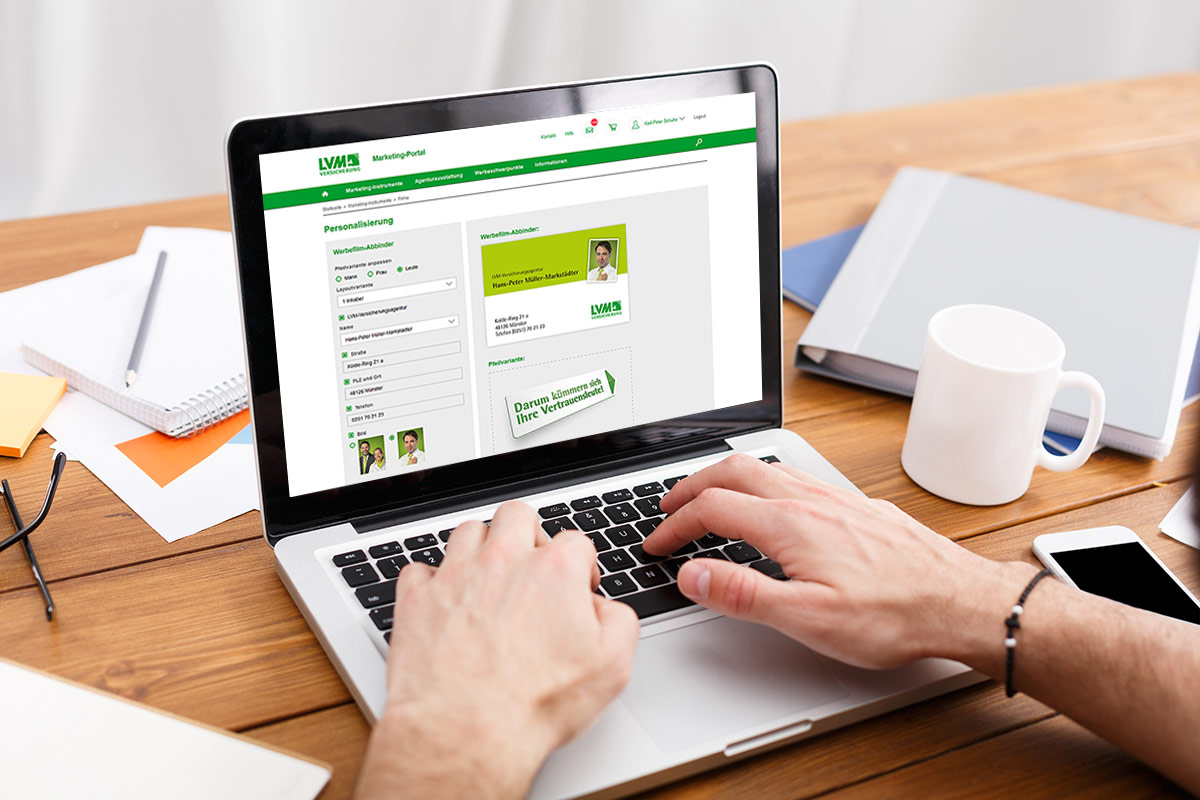 Digitization is unstoppable and changes the economy and society. Process optimization and simplification are important goals. Web-to-print systems bounce off this bandwagon, because customizing and ordering marketing and promotional materials over the Internet not only saves costs but also time. For the LVM Insurance we have a Marketing Portal (Web to Print System) developed, which offers both internal and external users the possibility to choose from a pool of marketing tools and to do so without much effort to print, personalized.
Media production made easy with web-to-print
The system is very simple: The LVM employee logs in and gets access to a whole series of templates and an integrated media and image database, which offers various motifs, articles and text modules for all advertising templates. This combination guarantees a design of the marketing means with web-to-print in the given corporate design and a uniform appearance of all LVM advertising media despite individual adjustments:
Display design: Various templates can be adjusted disproportionately in size and format with the Web-to-Print software depending on the target medium and specification. However, not only in terms of the output size, but also depending on the input text and the selected image material.

Business papers: The employee can quickly and easily select missing material and reorder in any quantity. The contact details are managed centrally by the company and automatically updated in the web-to-print system.

Posters: Not only the poster itself can be centrally selected and designed, but the appropriate advertising space can be booked easily and bill through the system - including the production and installation at the desired location.

Customer magazine: Pre-formulated articles can be selected and placed anywhere in the magazine template. Thanks to web-to-print: all individually and yet from a single source.

Commercials: LVM's popular advertising films can also be easily personalized via changeable scene content and then distributed directly: for playback in the agency's shop window, on their own website or in the cinema.

and much more/li>
Flexible service provider connection with web-to-print
Car leasing, customer gifts, rental equipment for trade fairs and events - the LVM's Marketingportal lives from the partnership with various service providers, production and distribution companies. The connection is automated and, depending on the product, centrally with supraregional providers such as media agencies for advertising or large area booking or decentralized with regional service providers such as printers or letter shops.
Helpful tools integrated directly
The use of the Local Brand X Marketingportal is as comfortable as possible adapted to the requirements of the LVM staff and agencies and integrates various useful extensions such as a planning tool for events in which all appointments of the agency create and book as desired equipment , Or the transparent order overview with direct status message, which is connected to the e-mail inbox and ensures that no notification is lost. All orders are also billed automatically: A set of rules stored in the system backend records all subsidy rates for the individual marketing instrument categories. Thus, subsidies or charges of agency accounts are handled correctly. Other valuable tools include a detailed help center with FAQs and a search function.
Prepared for the future
The big plus of the Local Brand X Marketingportal are its standard interfaces: It not only integrates CRMs and SAP, but also a practically unlimited number of external service providers. The system can be extended as required, offers a comfortable user interface and a multi-level security concept. Local Brand X thus offers a future-proof web-to-print system or marketing portal that meets every customer requirement.
---