Local Marketing aus einem Guss – ein Marketingportal macht es möglich
Unternehmen, die an zahlreichen Standorten agieren und flexibel auf die Anforderungen vor Ort eingehen müssen, stehen häufig vor der Problematik, mit einer zentralen Marketingabteilung auf dezentrale Herausforderungen eingehen zu müssen.
Wie erschafft man einen harmonischen Markenauftritt aus "einem Guss", der den Bedingungen verschiedener Niederlassungen oder Vertriebspartner entspricht und die Endkunden begeistert? Waren früher kleinteilige und oft fehleranfällige Arbeitsprozesse hierfür vonnöten, lassen sich diese heute durch ein Marketingportal optimieren und versprechen einheitliche und überzeugende Ergebnisse.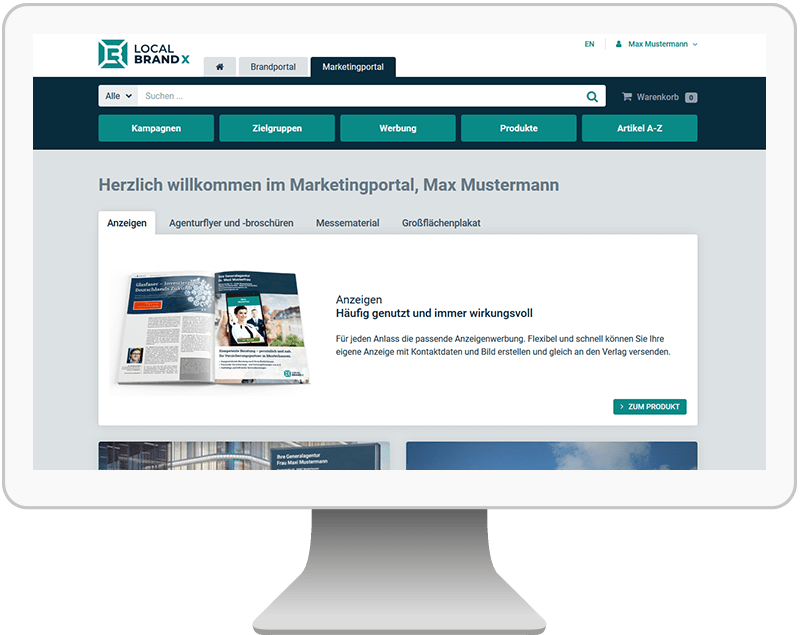 Local marketing from a single source - a marketing portal makes it possible
Companies that operate in multiple locations and need to respond flexibly to local needs often face the problem of having to face distributed challenges with a centralized marketing department.
How do you create a harmonious brand identity that meets the requirements of various branches or distribution partners and inspires end customers? In the past, small-scale and often error-prone work processes were needed for this, but today they can be optimized through a marketing portal and promise consistent and convincing results.
Uniform look thanks to marketing portal
A marketing portal provides all the relevant information needed for successful local marketing - even in a bundled form. In-house, but independent of locations, the portal can access image files, layout designs, phrases, and any other content necessary to conduct a marketing campaign. The centralized, simplified processing makes it possible to implement local marketing across locations and individually - with the best possible result.
Corporate Identity is Key
What is the use of the best marketing strategy if different standards of optics and customer contact are set in the communication with individual locations? Only those who can offer a coherent look and uniform standards, bind customers in the long term and create a high identification potential with the brand. Beyond the content, optics are the main focus here. Uniform layout and familiar color worlds or motifs bind customers. A strong corporate identity also makes it possible to differentiate from competitors and strengthens the brand.
Uniform standards with flexible customization options
With a marketing portal or marketing management system (MMS for short), the dream of a uniform look, which runs down to the last sales partner, is a reality. By setting standards in the marketing management system, it is possible to customize certain content of, for example, advertising materials - but the corporate identity is not in danger. Because only the information that has been released can be edited. As a result, the system remains flexible enough to be adapted to specific locations in individual branches and distribution partners. A successful approach to effective localization in widely dispersed companies.
Marketing Management System - the best of everything
The marketing management system works cloud-based. Regardless of location, the system can be accessed, and anytime, to order marketing materials or campaigns - from print brochures to the Facebook post. However, a marketing portal goes far beyond these requirements. Through open interfaces, the integration of service providers and social media as well as the production of advertising material, marketing portals are moving away from pure web-to-print offerings and taking the learnings from existing systems to the next level. p>
That a marketing management software strengthens brands and streamlines processes is easy to recognize. But what advantages does a marketing management system offer beyond that?
The consistent enforcement of the corporate design is probably one of the strongest arguments for working with a marketing management software. But beyond that, there are many advantages. Centralizing control processes can bypass communication problems and simplify workflows. With changes that are to be adopted in-house for all products and printed products, fewer mistakes happen: Updates are simply made in the marketing portal. These, like all activities of sales partners, are reflected in automated reports, so that errors can be found quickly and avoided in the future. In addition, the efficiency increase and cost reduction in centralization should not be forgotten: When paths are eliminated, the workflow is streamlined and communication is simplified, the entire company profits from it.
Sales partners also benefit!
The local sales partners also gain through a marketing portal in the company. As with traditional web-to-print systems, every person is able to take professional advertising measures and adapt advertising material without the usual prior knowledge. In addition, planning processes are simplified when all communication is through one system. So every person knows where to find information bundled. Corporate design templates can be customized based on local needs. In addition, booking and ordering processes run on the same system. This bundles all information in one place and enables a smooth workflow.
When is the investment in a marketing portal worthwhile?
If you want to provide your stakeholders with site-specific, compelling marketing solutions and campaigns, consider investing in a marketing portal. Thus, there is a suitable variation of the marketing management system for every sales form and every industry. Whether for franchise systems, with the ability to locally reproduce overlapping campaigns, for branches that want to unify a consistent, local look with a strong corporate identity, or for organizations that require recognition and retention, their workforce is not in design or execution but would rather stick to the realization of their goals - they all benefit from a marketing portal tailored to the company or organization.
Further information about our marketing management system can be found here:
Marketing Management System of Local Brand X GmbH
In which sectors can you find marketing portals?
As varied as the distribution types can also be the industries in which one resorts to a marketing portal. The spectrum ranges from parties, NGOs and non-profit organizations to banks, the automotive industry and the tourism sector to local companies such as driving schools, supermarkets or the catering trade. Also, companies that specialize in the manufacture of branded products generally appreciate the benefits of a marketing portal. The same applies to clubs, authorities and associations. Ultimately, you can find advantages in almost any industry when working with a marketing portal.
Helping people help themselves
Anyone who decides to work with a marketing portal will be rewarded with what is generally referred to as an all-round carefree package. The marketing management software enables smooth work processes and the possibility of individual adaptation of campaigns at the local level, while maintaining uniform standards. Everything takes place in one place. The customization options also allow you to get exactly the features your company needs. In the end, it's not just the company that gains in efficiency, but also the individual team members who are trained in using the marketing portal in new skills. A win-win situation for all involved entities
Further information about our marketing portal can be found here: Marketing Portal of Local Brand X GmbH
Corporate Identity is Key
Was nützt die beste Marketingstrategie, wenn in der Kommunikation mit einzelnen Standorten unterschiedliche Standards bei Optik und Kundenansprache gesetzt werden? Nur wer einen stimmigen Look und einheitliche Standards bieten kann, binden Kunden langfristig und erschafft ein hohes Identifikationspotential mit der Marke. Über die Inhalte hinaus steht hier vor allem die Optik im Mittelpunkt. Einheitliches Layout und vertraute Farbwelten oder Motive binden die Kunden. Eine starke Corporate Identity ermöglicht es außerdem, sich von Mitbewerbern abzusetzen und stärkt die Marke.
Einheitliche Standards mit flexiblen Anpassungsoptionen
Mit einem Marketingportal oder Marketing-Management-System (kurz MMS) wird der Traum von einem einheitlichen Look, der sich bis zum letzten Vertriebspartner zieht, Wirklichkeit. Durch gesetzte Standards im Marketing-Management-System ist es möglich, bestimmte Inhalte von beispielsweise Werbemitteln anzupassen – die Corporate Identity ist dabei allerdings nicht in Gefahr. Denn nur die Informationen, die dafür freigegeben sind, können bearbeitet werden. So bleibt das System flexibel genug, um in einzelnen Niederlassungen und von Vertriebspartnern standortspezifisch angeglichen zu werden. Eine erfolgreiche Annäherung an effektive Lokalisierung in weit gestreuten Unternehmen.
Marketing-Management-System – das Beste von Allem
Das Marketing-Management-System funktioniert cloudbasiert. Unabhängig vom Standort kann auf das System zugegriffen werden, und jederzeit Marketingmaterialien oder -kampagnen zu bestellen – von der Printbroschüre bis zum Facebook-Post. Allerdings geht ein Marketingportal weit über diese Anforderungen hinaus. Durch offene Schnittstellen, die Einbindung von Dienstleistern und Social Media sowie der Produktion von Werbemitteln setzen sich Marketingportal über reine Web-to-Print Angebote hinweg und bringen die Learnings aus bestehenden Systemen auf die nächste Stufe.
Dass eine Marketing-Management-Software Marken stärkt und Prozesse verschlankt, ist leicht zu erkennen. Doch welche Vorteile bietet ein Marketing-Management-System darüber hinaus?
Die konsequente Durchsetzung des Corporate Designs ist wohl eines der stärksten Argumente für die Arbeit mit einer Marketing-Management-Software. Doch auch darüber hinaus finden sich zahlreiche Vorzüge. So können durch die Zentralisierung von Steuerungsprozessen Kommunikationsprobleme umgangen und Arbeitsabläufe vereinfacht werden. Bei Änderungen, die unternehmensintern für alle Produkte und Druckerzeugnisse übernommen werden sollen, passieren weniger Fehler: Aktualisierungen werden einfach im Marketingportal angefertigt. Diese schlagen sich, so wie alle Aktivitäten von Vertriebspartnern, in automatisierten Reportings nieder, so dass Fehler schnell gefunden und zukünftig umgangen werden können. Zudem ist die Effizienzsteigerung und Kostensenkung bei Zentralisierungen nicht zu vergessen: Wenn Wege entfallen, der Workflow verschlankt und die Kommunikation vereinfacht wird, profitiert das gesamte Unternehmen davon.
In welchen Branchen finden sich Marketing-Portale?
Ähnlich Abwechslungsreich wie die Vertriebsarten können auch die Branchen sein, in denen man auf ein Marketingportal zurückgreift. Die Bandbreite erstreckt sich von Parteien, NGOs und Non-Profit-Organisationen über Banken, die Automobilbranche und den Tourismussektor bis zu lokalen Unternehmen wie Fahrschulen, Supermärkten oder die Gastronomie. Auch Unternehmen, die sich ganz allgemein auf die Herstellung von Markenartikeln spezialisiert haben, wissen die Vorzüge eines Marketingportals zu schätzen. Das gleiche gilt für Vereine, Behörden und Verbände. Letztendlich lassen sich in nahezu jeder Branche Vorzüge bei der Arbeit mit einem Marketingportal feststellen.
Beispiel-Branchen für den Einsatz eines Marketingportals
Versicherungen
Banken
Franchise
Handel
Automobil
Reise
Vereine und Verbände
Gastronomie
Hotelgewerbe
Healthcare
Auch Vertriebspartner profitieren!
Auch die Vertriebspartner vor Ort gewinnen durch ein Marketingportal im Unternehmen. Wie bei klassischen Web-to-Print Systemen ist es jeder Person möglich, auch ohne die normalerweise nötigen Vorkenntnisse professionelle Werbemaßnahmen zu ergreifen und Werbemittel anzupassen. Außerdem werden Planungsprozesse vereinfacht, wenn die gesamte Kommunikation über ein System läuft. So weiß jede Person, wo Informationen gebündelt zu finden sind. Vorlagen im Corporate Design können auf Grundlage von lokale Anforderungen angepasst werden. Außerdem laufen Buchungs- und Bestellprozesse über das einheitliche System. So werden alle Informationen an einem Ort gebündelt und ein reibungsloser Workflow ermöglicht.
Wann lohnt sich die Investition in ein Marketingportal?
Wer seinen Stakeholdern standortspezifische, überzeugende Marketinglösungen und Kampagnen bieten möchte, sollte über Investition in ein Marketingportal in Betracht ziehen. So findet sich für jede Vertriebsform und jede Branche eine passende Variation des Marketing-Management-Systems. Egal ob für Franchisesysteme, mit der Möglichkeit zur lokalen Reproduktion übergreifender Kampagnen, für Filialen, die einen einheitlichen Look für Ort mit einer starken Corporate Identity vereinen möchten oder für Organisationen, denen Wiedererkennbarkeit und Kundenbindung wichtig sind, die ihre Arbeitskraft allerdings nicht in Design oder Abwicklung, sondern lieber in die Verwirklichung ihrer Ziele stecken möchten – sie alle profitieren von einem auf das Unternehmen oder die Organisation zugeschnittenen Marketing-Portal.
Weitere Informationen zum Thema "Marketing-Management" finden Sie hier:
Marketing-Management
Hilfe zur Selbsthilfe
Wer sich für die Arbeit mit einem Marketingportal entscheidet, wird mit dem belohnt, was man im Allgemeinen so schön als Rundum-Sorglos-Paket bezeichnet. Die Marketing‐Management‐Software ermöglicht reibungslose Arbeitsprozesse und die Möglichkeit der individuellen Angleichung von Kampagnen auf lokale Ebene, während einheitliche Standards gewahrt werden. Alles findet an einem Ort statt. Die individuellen Angleichoptionen ermöglichen es außerdem, genau die Funktionen zu beziehen, die im Unternehmen benötigt werden. So gewinnt am Ende nicht nur das Unternehmen durch die Steigerung der Effizienz, sondern auch die einzelnen Teammitglieder, die im Umgang mit dem Marketingportal in neuen Fähigkeiten geschult werden. Eine Win-Win-Situation für alle beteiligten Instanz
Weitere Informationen zu unserem Marketingportal finden Sie hier: Marketingportal der Local Brand X GmbH